The Canadian Pictorial and Illustrated War News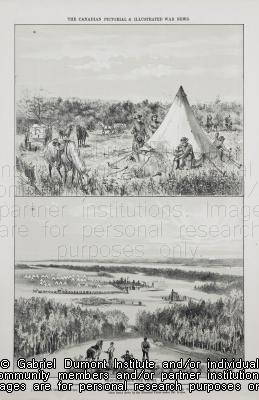 The Canadian Pictorial and Illustrated War News
In the 19th century – before our modern media infrastructure was in place – major events were told through word of mouth, telegraphs, but mostly via print media. The events were often told days, weeks and even months after they occurred. Dailies, weeklies and monthly journals did the lion's share of this reporting. After Confederation, this tradition in Canada was most evident with the Canadian Illustrated News that was published in Montréal, Québec by Georges Desbarats from 1869 to 1883. This publication was replaced by The Canadian Pictorial and Illustrated War News, which was published by the Grip Printing and Publishing Company in Toronto, Ontario. This publication used a variety of biased, imagined artistic representations of the battles and personalities of the 1885 Resistance. "The 1885 Campaign was fought in a time of transition from the pen-and-ink sketch and watercolour school of visual reporting of military events, with all its attendant bias and glorification of war, to the photographic report with more subtle but equally strong biases. The Illustrated War News represents the older approach". (https://www.collectionscanada.gc.ca/military/025002-4080-e.html). The Gabriel Dumont Institute acquired this collection in April 2004 through a special fund of the Government of Canada.
The collection is important because:
(1) It represents the only systematic illustrated account of the 1885 Resistance from a contemporary perspective
(2) It provides an English-Canadian perspective about this event
(3) It is a good primary resource because these prints and corresponding text have stereotypical portrayals of Métis and the First Nations. The Aboriginal participants of the 1885 Resistance are viewed as "primitive" and "savage".