Dennis and Jean Fisher Collection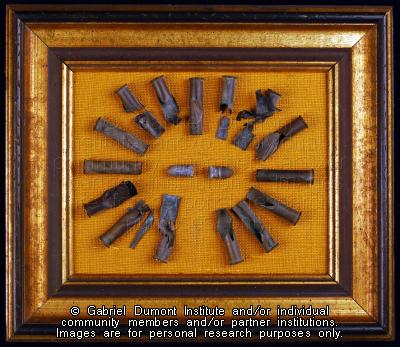 On September 19, 2011, Dennis and Jean Fisher and the Gabriel Dumont Institute (GDI) formally signed a "Deed of Gift," which formally transferred their large collection of 1885-related and Métis artifacts to the Institute. The Dennis and Jean Fisher Collection which contains several hundred Métis-specific artefacts, documents, photographs, ephemera, and books is housed in GDI's Publishing Department office in Saskatoon.
Throughout the late 1960s and early '70s, the Fishers, assisted by their three sons—Dennis Jr., Darwin, and David—found 1885 Resistance-related artefacts at Gabriel's Crossing, Tourond's Coulee (Fish Creek), Batoche, and Clark's Crossing. Some of the more interesting items collected by the Fisher family, and now in GDI's possession include: a piece of Gabriel Dumont's cast-iron stove and various other artefacts found at Gabriel's Crossing, including a partial white porcelain doorknob; items from Xavier Letendre's home at Batoche; various used gun cartridges from Batoche and Tourond's Coulee; and a nine pounder cannon shell, which was used by the North West Field Force during the 1885 Resistance. Other artifacts in this collection include: two pieces of the steamer Northcote (which Gabriel Dumont's forces disabled during the 1885 Resistance) obtained from an excavation in Cumberland House in 1971; fur trade items such as trade beads and clay pipe stems from Fort Carleton and Fort Pitt; and artefacts collected at St. Peter's Mission, Montana—where Louis Riel taught school. In 1884, Gabriel Dumont, Michel Dumas, Moïse Ouellette, and James Isbister went to St. Peter's Mission in order to bring Louis Riel back to Batoche.